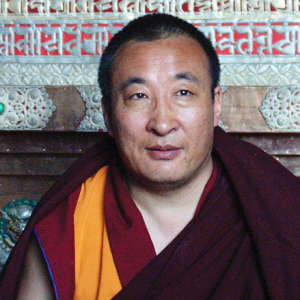 About Khentrul Rinpoché
Khentrul Rinpoché Jamphel Lodrö is a dynamic teacher of Tibetan Buddhism whose bold and penetrating wisdom cuts through confusion to shine a light on our most essential nature. Emphasising a clear and direct approach to both study and practice, Rinpoché embodies the compassionate warrior ethic that has driven him to dedicate his life to propagating the profound teachings he has been so fortunate to receive.
Emerging into the modern world at the turn of the century, Khentrul Rinpoché is living proof that the Buddha's teachings are alive and well in the snowy land of Tibet. Born during a time of great turmoil, Rinpoché was raised as a simple nomad, tending to his herd of yaks. Despite the many miraculous signs received by his parents, acting under advisement, the truth of just how special Rinpoché was remained hidden from the public for many years. It wasn't until Rinpoché grew into a young adult that he made the decision to renounce all worldly activities in order to focus his energy on the Dharma.
Open-minded and inquisitive, Khentrul Rinpoché has spent over thirty years studying with a wide array of masters from all the major traditions of Tibetan Buddhism. Through his non-sectarian approach he has gathered a wealth of wisdom and experience spanning the full range of the Buddha's teachings. While having developed a deep respect for all authentic spiritual traditions, for his personal path, he chose to specialise in the Kalachakra System.
Recognising that outside of Tibet, very little is known about Kalachakra, Rinpoché has made it his life-long goal to cultivate awareness of these profound teachings and to offer guidance to all those wishing to put them into practice. To this end, Rinpoché has authored a variety of books which detail the complete Kalachakra Path. Providing in-depth commentaries, these books guide the student in a gradual manner using a clear and practical structure.
Based in Melbourne, Australia, Rinpoché dedicates his time to teaching students from around the globe. In the last five years he has completed three world tours, taking him to more than twenty countries across Asia, Europe, Africa and the Americas. As a result of his extraordinary efforts, the number of Kalachakra practitioners are steadily increasing, with new practice communities being established in a growing number of cities.
---
For more information about Rinpoché and his activities: