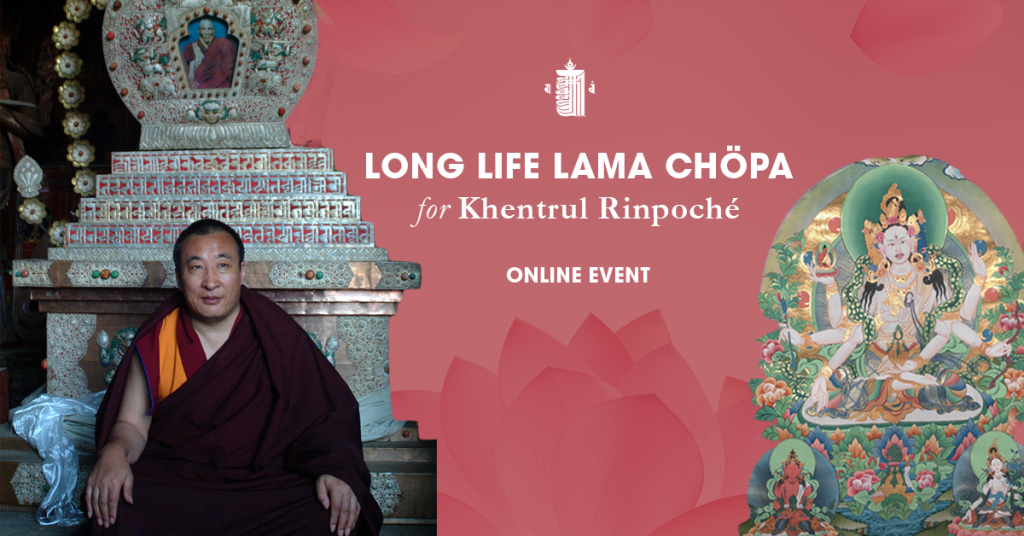 Over the last several years, our precious guru Khentrul Rinpoche has traveled to over 24 countries around the world to spread the profound Kalachakra tantra. Despite occasional challenges to his health, he has worked tirelessly for our benefit bestowing teachings, transmissions and empowerments upon us of the most rare Kalachakra tantra. In gratitude, to support his long life and continued ability to benefit as many beings as possible, we would like to come together to perform the long life lama chöpa (guru puja).
At the culmination of Khentrul Rinpoche's North American tour on September 22, the offering will be made by students in California on behalf of all of Rinpoche's students around the world. It will be streamed live on facebook so that everyone can join in and participate. This is the first time Khentrul Rinpoche's students outside of Tibet have made this offering. May our sangha be successful in this great aspiration.
How to Participate
1) Mantra Accumulation for Khentrul Rinpoche's Long Life
In order to support Rinpoche's long life we will focus our accumulation on the Long Life Diety Namgyalma. In order to do this, take refuge, generate bodhicitta and then recite the short or long mantra of Namgyalma and dedicate to Khentrul Rinpoche's long life. You can also add in the Supplication Prayer to Khentrul Rinpoche on page 311 of the Profound Path of Vajra Yoga. Enter your mantras into the website by September 20th so they can be offered to Rinpoche at the ceremony. This creates a direct karmic link between you and the offering ceremony.
SUBMIT MANTRA RECITATIONS
2) Make Offerings to Support Rinpoche's Great Aspirations
As part of the guru puja, it is traditional for the sangha to make offerings to the guru both real and visualized. In order to overcome the limitations of narrow and biased ways of thinking, Rinpoche believes that education is the key. In order to bring about Shambhala and the golden age of Dharma, Rinpoche has an aspiration to change aspects of modern education on a fundamental level in accordance with Kalachakra.
We have created Dzokden Foundation for Khentrul Rinpoche to fulfill his great aspiration. In order to make this long life offering as auspicious as possible we request the community to help us seed the foundation. Your offering will be made to Rinpoche during the long life offering ceremony.
LEARN ABOUT AND DONATE TO DZOKDEN FOUNDATION
3) Participate in the offering Livestream on Facebook
Join us on Khentrul Rinpoche's facebook page to participate in the live stream offering. The text will be available in English for you to recite.
Offering to the Guru
By Jetsun Taranatha
The traditional Jonang Lama Chöpa (guru puja) has been extended to include the turning back of the 5 dakinis, kalachakra tsok and Long Life Prayers for Rinpoche. The text will be available closer to the event in English under practice materials.
WATCH THE LIVE STREAM
Namgyalma Mantra
Short Mantra of Namgyalma
OM BHRUM SVAHA / OM AMRITA AYUR DADAI SVAHA
Long Dharani of Namgyalma (Usnisa Vijaya Dharani Sutra)
OM NAMO BHAGAVATE / SARVA TRAILOKYA PRATIVISHISHTÁYA / BUDDHAYA TE NAMAH TADYATHA / OM BHRUM BHRUM BHRUM SHODHAYA SHODHAYA / VISHODHAYA VISHODHAYA / ASAMA SAMANTA / AVABHASA SPHARANA GATI / GAGANA SVABHAVA VISHUDDHE / ABHISHINCHANTU MAM / SARVA TATHAGATAH SUGATA PRABACHANA / AMIRTA ABHISHEKAIH / MAHA MUDRA / MANTRA PADAIH / AHARA AHARA / MAMA AYUR SANDHARANI / SHODHAYA SHODHAYA / VISHODHAYA VISHODHAYA / GAGANA SVABHAVA / VISHUDDHE USHNISHA VIJAYA / PARISHUDDHE / SAHASRA RASMI SANCHO DITE / SARVA TATHÁGATÁ AVALOKINI / SHAT PARAMITA PARIPURANI / SARVA TATHAGATA MATE / DASHA BHUMI PRATISHTHITE / SARVA TATHAGATA HIRDAYA / ADHISHTHANA ADHISHTHITE / MUDRE MUDRE / MAHA MUDRE / VAJRA KAYA / SAM HATANA PARISHUDDHE / SARVA KARMA AVARANA VISHUDDHE / PRATINI VARTAYA MAMA AYUR VISHUDDHE / SARVA TATHAGATA SAMAYA / ADHISHTHANA ADHISHTHITE / OM MUNE MUNE MAHA MUNE / VIMUNE VIMUNE MAHA VIMUNE / MATI MATI MAHA MATI / MAMATI / SUMATI / TA THA TA BHU DHA KOTI PARISHUDDHE / VISPHUTA BUDDHE SHUDDHE / HE HE JAYA JAYA / VIJAYA VIJAYA / SMARA SMARA / SPHARA SPHARA / SPHARAYA SPHARAYA / SARVA BUDDHA ADHISHTHANA ADHISHTHITE / SHUDDHE SHUDDHE / BUDDHE BUDDHE / VAJRE VAJRE / MAHA VAJRE / SUVAJRE / VAJRA GARBHE / JAYA GARBHE / VIJAYA GARBHE / VAJRA JVALA GARBHE / VAJROD BHAVE / VAJRA SAMBHAVE / VAJRE VAJRINI / VAJRAM BHAVATU MAMA SHARIRAM / SARVA SATTVA NANCHA KAYA PARISHUDDHIR BHAVATU / ME SADA SARVA GATI / PARISHUDDHISHCHA / SARVA TATHAGATASHCHA MAM / SAMASHVA SAYANTU / BUDDHYA BUDDHYA / SIDDHYA SIDDHYA / BODHAYA BODHAYA / VIBODHAYA VIBODHAYA / MOCHAYA MOCHAYA / VIMOCHAYA VIMOCHAYA / SHODHAYA SHODHAYA / VISHODHAYA VISHODHAYA /SAMANTANA MOCHAYA MOCHAYA / SAMANTA RASMI PARISHUDDHE / SARVA TATHAGATA HIRDAYA / ADHISHTHANA ADHISHTHITE / MUDRE MUDRE MAHA MUDRE / MAHA MUDRA MANTRA PADAIH SVAHA
Audio Recording of Long Dharani
Note: In the Tibetan pronounciation of the sanskrit, "benza" is pronounced for "vajra."
https://soundcloud.com/dzokden/nam-gyal-ma
Counting Mantras
For each mala of 108 that you complete, count 100 mantras. There are 8 extra beads in a mala to accommodate for our human error in practicing. For multiplying days, the number of malas you count remains the same as the number you practiced. The multiplying increases the potency in the mind but does not change the overall number accumulated.
SUBMIT MANTRA RECITATIONS